Brief Itinerary 8D/7N
A must seen in everyone's life are the majestic Andes; and there is no better place to experience them with your family than Ecuador. Anyone that has been in Ecuador will tell you that the country excels in Volcanoes and Ranches, and this program offer the best of Both. We know how important your family vacations are and that is why we have created a program where you can experience exclusive Andean Haciendas on two of the most iconic Regions of the country. This program will give you the opportunity to have your home away from home, with the versatility of arriving to a former hacienda, that will be your home on airbnb style but with all the comfort and benefits of an escorted tour. Enjoy one of our exclusive houses on the Northern Andes, and complement your family adventure with a stay at Tierra del Volcan / Hacienda El Porvenir, a soft-adventure ranch near Cotopaxi Volcano, one of the highest active volcanoes in the World, where you will enjoy "… one of the best adventure opportunities you can pitch to clients looking to do a little family bonding in South America" Luxury Travel. Hacienda El Porvenir is located on one of 52 places that the New York Times bucket list for 2017,
The perfect opportunity to experience a unique cultural insight among the Indigenous Communities of the Imbabura Volcano.
Discover the rich cultural and folkloric background while cuddled by the natural beauty of the Ecuadorian Northern Andean Region. This is a program designed for the entire family that encourages hands-on participation to learn new skills.
Day 1.- Arrive to Quito
Day 2.- Mitad del Mundo / Visit to Colonial Hacienda / Local Market
Day 3.- Cultural Encounters
Day 4.- Choose your adventure: Kayak on a sacred lagoon, Train ride to chota Valley, Encounter with the Andean Birds, Hike Cuicocha.
Day 5.- Otavalo indigenous Market. Travel to Cotopaxi Volcano area.
Day 6.- Horseback Ride and Chagra skills at Hacienda El Porvenir.
Day 7.- Mountain Biking and Cotopaxi High Rope Course
Day 8.- Full day visit to Cotopaxi National Park / Transfer to the airport.
* * Tour available year round . Minimum 4 people
Level of Difficulty
| | |
| --- | --- |
| Technical Level | Physical effort |
| Low | Low |
Detailed itinerary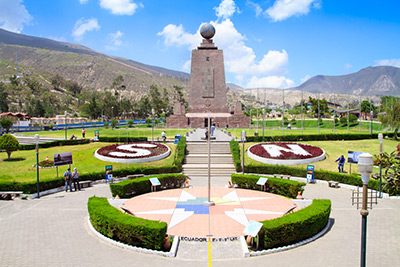 Day 2.- Mitad del Mundo / Visit to Colonial Hacienda / Local
Market After breakfast we head to visit the place that give Ecuador its name, the equatorial line also know in spanish as la mitad del mundo or middle of the world; where we can learn and play on learn the interactive museum of the effects of gravity on each hemisphere. Then we continue traveling North, to have lunch in one of the beautiful colonial Haciendas of the area. After lunch we drive to Ibarra local market to buy exotic fruits and new flavors. Travel to one of the properties we offer exclusively where you will enjoy the benefits of having the house for yourself with the welcoming service provided by the hacienda staff. Hands on cooking classes with local women experts on Ecuadorian cuisine and family traditional recipes.
Overnight at Hacienda B,D.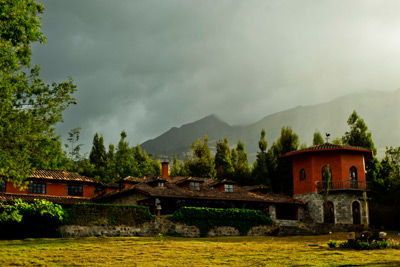 Day 3 Cultural Encounters.
The Northern Ecuadorian Andes in the Imbabura region, are famous for the diversity of ancestral Indigenous cultures. Today we get to learn and participate on some of their wisdom by putting our hands on their traditional activities like: pottery that the locals still use for cooking, visit a local healer that will share her wisdom about medicinal plants or a hands on embroider experience with a local zuletena renowned for their typical atiers. We will have lunch at Ibarra city and then enjoy a very unique flavor that the city is famous for, "Ice cream"; but not any ice cream. The "helados de Paila" are sorbets made by hand in a large copper pail, which is spun on a bed of straw and ice, stirred with a wooden spoon until it get the perfect creamy consistency, "try the different passion fruit options! The rest of the afternoon we will enjoy some tranquil time at the Hacienda, and at the end of the afternoon a delicious barbeque!
Overnight at Hacienda B,D.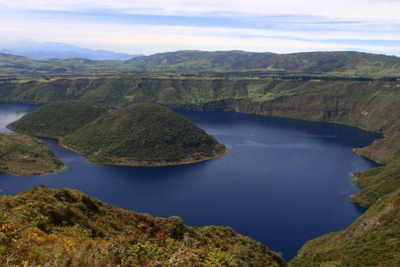 Day 4.-
Choose your adventure. Today you can experience the adventure that fit best for your taste and family. We have put together 3 different options from where to choose from. B,D
Kayak San Pablo lake. San Pablo is a sacred lake. It is beautiful to kayak near the shore where you can see the daily life of the local people, washing their clothes, fishing or harvesting totora (an aquatic plant used for weaving). Also andean birds like gulls, coots and eagrets can be seen from the water. It is super fun to do it with kids!!
Visit El Parque Condor a sanctuary sanctuary that rehabilitates birds of prey like Andean condors, eagles, owls, falcons and hawks. Follow your guide along a nature trail, and catch sight of some of these birds before heading to the amphitheater for a flight demonstration. Watch rangers work with hawks and falcons as the birds soar,
plummet and find prey.
Train Ride to Salinas and the chota valley. This train ride goes from Ibarra city to Salinas a place from where the spanish conquistadores use to get their salt supplies and is home of the most important afroamerican community of Ecuador. At Salinas we will have the opportunity to enjoy several dances performed by the local cultures. The trian need to be booked in advance.
Enjoy a hike around one of the most beautiful lakes that this area has to offer, the Cuicocha lake. The lake is an old volcano crater that has around 2 miles across, with two Islands in the center of the lake. The hike takes around 4 to 5 hours and has 9 miles long.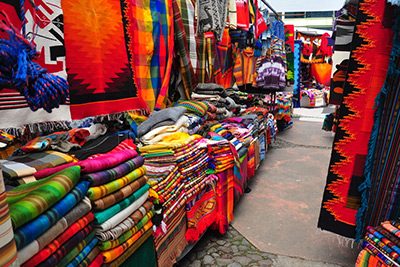 Day 5.- Otavalo Market and travel to Cotopaxi Volcano area.
After breakfast we drive to Otavalo Market (45 min driving). The market is very colorful and full of textures. Indigenous women have a long weaving history and Otavaleños (how ocal define themselves) pride on their weaving legacy. They are also fantastic merchants that travel throughout the World selling their creations. Today we visit a local waiver on one of the villages nearby. Lunch at a local eatery. After lunch we drive to Cotopaxi to Hacienda El Porvenir ( 3 hours drive) where a crackling fireplace will be waiting for us.
Overnight at Hacienda El Porvenir B,D.
Day 6.- Horseback riding Rumiñahui Volcano:
In the morning we have a delicious, nutritious farm breakfast, followed by a brief riding lesson from our guides before we set out on our horses. Wearing the typical dress of the chagra (Ecuadorian cowboys), we ride out across the slopes of the dormant volcano, Rumiñahui. A respected chagra from the area will come with us and share some of his deep knowledge of the country life. The ride lasts for approximately 2 hours. Back in the farmhouse, a tasty local lunch will be ready on our arrival. In the afternoon we can learn from our Chagra Guide the local cowboy skills including horse handling and care instructions. Feel free to feed the horses whenever you want! Weather permitting, we can hike to the sky deck to watch stars and constellations, if we get a cloudy night we can hike to the campsite and set a fire to listen some local stories and make smores! B,L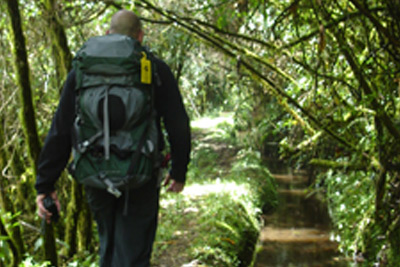 Day 7.- Mountain biking or Native forest hike and Cotopaxi High Rope Course:
Today we offer two options for families so that they can get what´s best for their interests and skills. This activities have to be chosen in advance for logistic reasons. B,L
Option A Mountain Biking: After a wholesome country breakfast, we provide each guest with a mountain bike (29 ners for adults and good quality mountain bikes for kids) The Hacienda has several biking circuits so that you can enjoy a morning of highland trails explorations at your own pace. This bike trip can last aprox. 2h30 hours, through patches of Native forest, farmland and highland trails. Return to the farm house for a delicious lunch. During the afternoon, we enjoy the Cotopaxi High Rope Course, a circuit designed for both kids and for adults. This is a perfect activity for bonding and strengthening family bonds.
1H20 activity time approx
Children from 6 years of age and up.
Option B Native Forest Hike: After a wholesome country breakfast, we drive to Santa Rita Ecological Reserve, a private conservation area in the Cotopaxi Area with fantastic remains of native forest, petrified lava streams, glacial rivers and waterfalls. We will hike through native forest trails, learning about the ecology of the place. A 2 hour loop will finish on the campsite where we can catch some rainbow trout in the stream like locals do. We enjoy a pic nic on the campsite and if we caught some trout, we can cook it and have it for lunch! or we can always do catch and release. During the afternoon, we return to Hacienda El Porvenir to enjoy the Cotopaxi High Rope Course, a circuit designed for both kids and for adults. This is a perfect activity for bonding and strengthening family bonds. B,L
1H20 activity time approx
Dinner and overnight stay at Hacienda El Porvenir.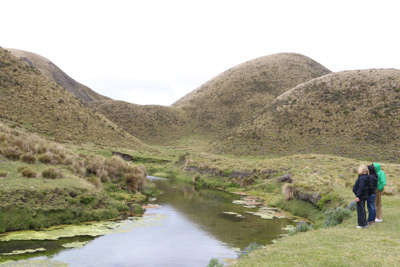 Day 8.- Cotopaxi National Park Visit:
Have you ever think about how it is possible to have glaciers on the Equatorial line? Have you ever wonder how it is to climb an active volcano? Would you like to discover why ancient explorers pointed out Cotopaxi as one of the most beautiful mountains in the World? This is your opportunity to immerse yourself on a fantastic day trip of exploration to the Iconic Cotopaxi National Park. Home of the biggest flying bird in the world: the Andean Condor. Home of herds of wild- truly wild- horses. Where migratory birds stop by to get some rest on their way South.
The location is the perfect place to learn about Andean Geology. On our visit we reach the car park below the Cotopaxi Refuge, where we begin our short hike up to the climbing hut (Refugio José Ribas) at 4,800m. (15,744 ft). It is hard not to be overwhelmed by the sheer immensity of the Volcano on this short hike. Once back in the vehicle, we continue on our way driving down to Limpiopungo Lake, where a wholesome box lunch will be served. A vast territory with ancient Inca military fortresses, plains full of volcanic rocks from past eruptions where we will learn how to recognize the oldest stones. Great chances of learning and connecting with nature during this final day of our Highland Family Adventure. At the end of the afternoon we return to Quite to the airport. B,L
Price per adult based on double room occupancy US 1990
Children up to 11 years US 1590
NOTE: Itinerary subject to change due to weather conditions or market days.
Tour Includes
Accommodation

Meals described on the itinerary.
Described activities
Guides (English speaking and native guide)
Riding  gear(poncho, chaps and riding helmet)  and high ropes gear (harness, helmet, gloves, ropes) Mountain Bike gear ( helmet, gloves, knee and elbow protection) Fishing ( basic fishing tools used by locals to catch trout)
Entrance fee to Santa Rita Ecological Reserve
Transport from and to Quito
Tour does not include