On the Slopes of Quilindaña Volcano, Hacienda El Tambo offers the perfect location for longer expeditions. Hacienda El Tambo is immersed in a pristine and remote area of the Condor Bioreserve, a major conservation program that serves as a corridor of Andean endangered species. The hacienda house remains true to it's origins dating back to Inca times, when it served as a Tambo or inn, for travellers going to the Amazon basin. The ancient Tambo was destroyed during the initial Spanish conquest but was rebuilt with the same stone that Inca hands carved more than 500 years ago.
Hacienda El Tambo was declared Protected Woodland by the Ministry of the Environment in 1992 and actively supports conservation work in the area. The farmhouse was built with local materials, such as stone formed by the various eruptions of Cotopaxi, and straw. Here visitors can venture into remote, pristine destinations on exclusive, comfortable expeditions. Whichever way you look in this lonely land of the Andes, you cannot help but admire the magnificence of nature and the mind-blowing scenery. Hacienda El Tambo lies on the eastern slopes of Cotopaxi, at an altitude of 3,600m, and is four hours drive from Quito. You can only get to El Tambo in a four-wheel-drive (4WD).
Recommendations: Our programs have a 2 night minimum stay, however, we highly recommend you stay for 4 nights in order to fully experience this destination.
When to visit: El Tambo is unique with every passing season, which is why we are open year round. However, remember that the andean weather is unpredictable; within the same day you can experience snow, heat, rain and wind.
Connectivity: No internet or phone connection. There's a regular phone available at the Hacienda for emergencies.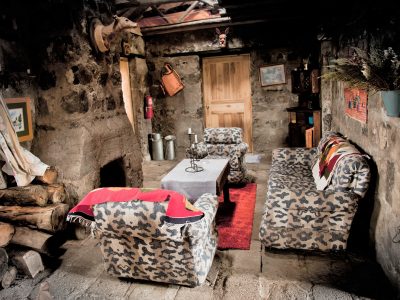 Lodging
Machais
At El Tambo there are only Machai Rooms available.
Rather than formal rooms, these remember the huts built by highland Indians with their thatched roofs and matting made estera walls and curtains as doors. They are very warm and cozy rooms. There are 6 machais that can accommodate two people each, and there's one Master machai, which can accommodate six guests. The Machais share 3 bathrooms and 3 showers (hot water).